Butter Chicken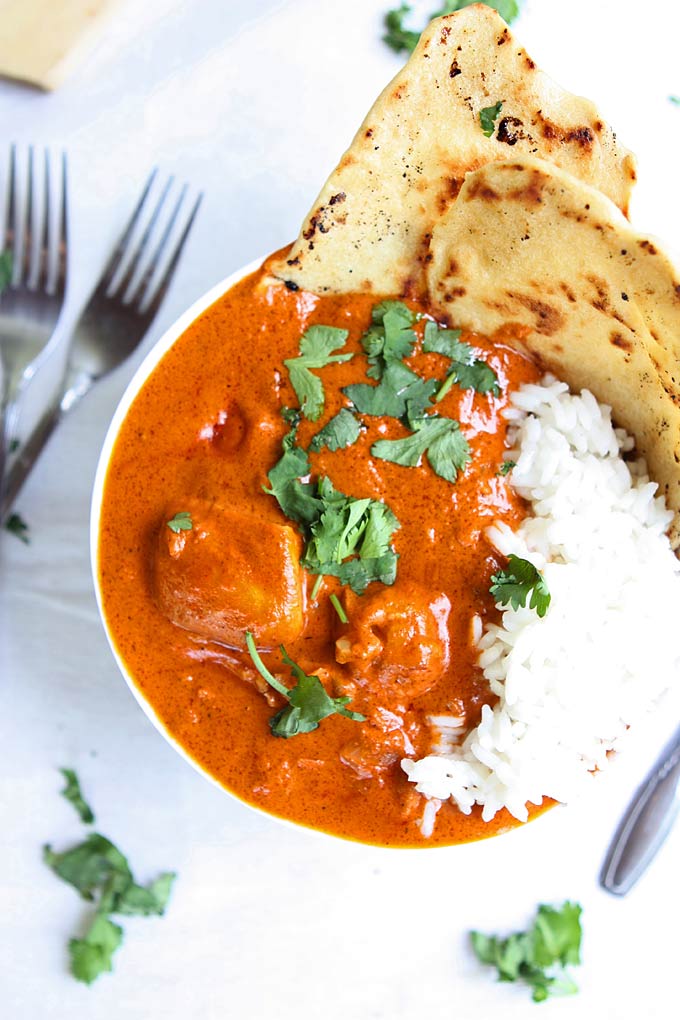 1 Kg Chicken Breast, cut in chunks
2 tbsp Lemon juice
2 tsp Kashmiri red chilli powder
Salt

Marinade
400ml Natural Yogurt
5 tsp Ginger paste
5 tsp Garlic paste
2 tsp Kashmiri red chilli powder
2 tsp Garam masala powder
½ tsp Chilli Powder
1 tbsp Vegetable oil
Salt to taste

Masala
2 tbsp Vegetable Oil
1 Onion, large fine chopped.
5 Green cardamom
5 Clove
8 Black peppercorns
1 inch Cinnamon
3 tsp Ginger paste
3 tsp Garlic paste
1 tbsp Tomato puree
2 tin chopped tomato
1/2 tsp Red chilli powder
2 tsp Kashmiri chilli powder
Salt to taste
2 tbsp Sugar
2 tsp Kasoori methi
500 ml Fresh cream
100g Butter
Basmati Rice
Heat oil in a pan. Add the spices and heat for a minute. Add the garlic and ginger and cook for 2 mins. Add the tomato puree, stir and cook until bottom off pan starts to brown a little. Add the tomatoes and bring to a simmer for 30 mins. Remove and cool a little before blitzing in a blender. Reintroduce to the pan and add the cream, and then the butter, stir and reduce a little.
Place chicken in a bowl and mix in lemon juice, chilli powder and salt. Mix well, cover and place in fridge for 30 mins. Then place chicken in marinade and leave in fridge for 3 hours.
Take chicken from fridge, place on metal skewers and cook under a hot grill, turning once it starts to brown. During grilling, remove and baste with melted butter and lemon regularly.
Add the chicken to the sauce. Serve with Basmati Rice, poppadoms, and naan bread.