Madras Lamb Curry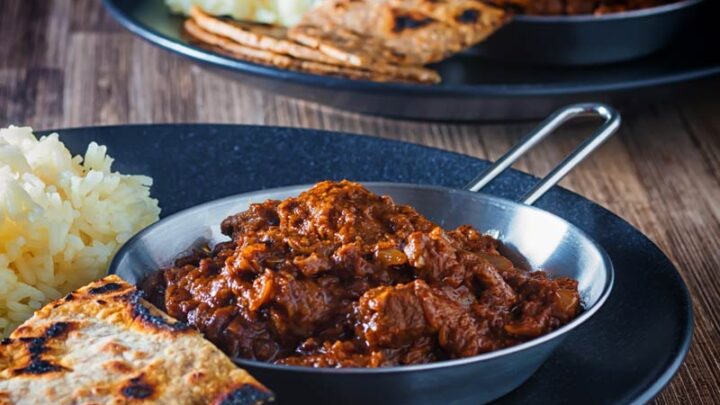 1 Leg of Lamb
110 g Nibbed Almonds
500ml Light Cream
1.5 Tablespoon Pounded Ginger
Salt
Butter
4 Onions Sliced in Rings
4 Cloves of Garlic
2 Tsp Coriander Seed
2 Tsp Pepper corns
1 Tsp Green Cardamom Seed
8 Cloves
1 Tbsp Turmeric
2 Tsp Sugar
Lime Juice
Segments of lime
Debone the Lamb, removing most of the fat. Cut meet into 4cm cubes. Place in a bowl with ginger. Sprinkle with salt and leave for an hour.
Blanch the almonds, remove the skin and chopped to nibbed size (3mm cubes). Add to the cream, heat for a few minutes than remove and leave for 20 mins to infuse and cool.
In large pot, sauté the onions in butter for 5 mins. Then add the spices and cook for another 5 mins.
Remove the onions to a plate. Then in small batches, brown the lamb pieces.
When finished browning the lamb, put all the lamb and the onion/spice mixture back into the pot. Add the cream. Mix well. Then add the turmeric and sugar. Bring to a simmer and place in bottom of Aga for 2/3 hours.
Serve with Basmati or Pilau rice, naan, poppadom and some Cucumber & Mint and Pomegranate & Grape Raitas.